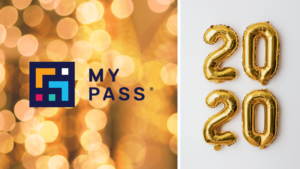 As we prepare to draw the curtains on the year that was, we take this opportunity to highlight our proudest achievements from the past 12 months. We would like to thank our clients, investors and the whole MyPass® team for coming along for the ride!
🎉 We are proud and humbled to be ending 2020 with 41 MyPass® team members – a 51% increase since the beginning of the year, resulting in new offices in three locations.
🎉 We are honoured to have been recognised by The Australian Financial Review as the #1 Most Innovative organisation in the Agriculture, Mining & Utilities sector across Australia & New Zealand. We believe this is a testament to our clients, stakeholders and everyone behind the MyPass® operation for being driven to innovate in a time of great uncertainty.
🎉 We cemented our commitment to the MyPass® team culture by establishing a dedicated role for our People and Culture Lead.
🎉 We've doubled our subscription revenue this year after welcoming another 25 business partners to the MyPass® community. The momentum is building across the resources sector, and we're grateful to be working with such innovative industry leaders.
🎉 We are proud to be powering weVolunteer, an initiative led by Volunteering Victoria and supported by the Victorian State Government to accelerate the COVID-19 relief effort. To date, 2000+ volunteers have created a MyPass® profile to match their skills and experience with opportunities.
🎉 MyPass® was awarded funding from NERA's COVID-19 Innovation Fund Round to expand the functionality of our award-winning digital work passport platform. This aided us to enhance our technology to enable Australian companies to keep critical workers and high-risk Australians safe during the COVID-19 pandemic. Our COVID Self Declaration Form was completed over 40,000 times globally.
2020 has been a big year for our team, and we're grateful that we've been able to keep growing throughout COVID-19. We're delighted to have proven the cross-sector application of MyPass®, in particular through our entry into Volunteering and Aged Care. We remain cautiously optimistic about 2021 and look forward to sharing our journey with you.
Thanks again to the many business partners and individuals who have supported us along the way!