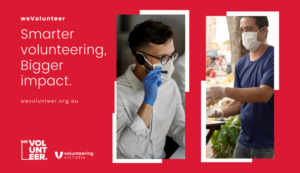 We are pleased to announce that the weVolunteer online portal is now open for registrations. MyPass® is honoured to be powering the weVolunteer platform, led by Volunteering Victoria and supported by the Victorian State Government.
weVolunteer is a Volunteering Victoria initiative designed to support both volunteers and Victorians through the pandemic by strengthening the volunteering sector as a whole. The weVolunteer online portal will lead the delivery of volunteer activation to strengthen the supply of skilled and available volunteers to support the recovery from COVID-19.
Volunteers can now register their skills on weVolunteer to connect with roles and make simple yet meaningful contributions in their local communities. Volunteer organisations are also invited to sign up and utilise the online portal to request volunteers for ongoing projects.

MyPass® is thrilled that its technology, originally designed to mobilise offshore Oil and Gas workers, has now been deployed to help connect volunteers with Victorians in need of support.
We take this opportunity to thank everyone who has already registered with weVolunteer to support the relief effort in Victoria. Whether you have an existing MyPass® profile or not, you can register to weVolunteers by emailing enquiries@mypassglobal.com.