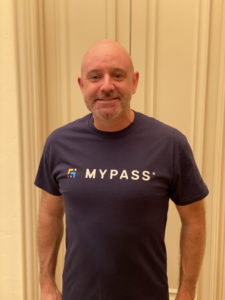 The MyPass® team is supported by some brilliant minds and we are fortunate for these investors and advisors who are guiding us on our journey. One of these people is Steve Power.
Steve has been involved with tech startups for over twenty years and brings with him a wealth of knowledge when it comes to successfully building, growing and delivering tech services. We sat down with him to hear why he's backing MyPass® as an investor and what he's learnt from a career in technology.
What does being an 'investor' mean to you?
'Investor' is such a broad word. There are people who put in money and call themselves an investor, there are venture capitalists who will provide ideas, thoughts, support & coaching. There are Angel Investors who help you work out your business model, how you'll build it and how you grow. There's also private equity which will drive you pretty hard towards success. There are lots of different types of investors who have different modes of operation.
What do I think is an investor? In fast-growing tech companies, an investor is a unique creature. It's someone who understands the space that you're in and who understands the problem you're trying to solve. They usually highly respect, trust and love the founder and connect with the product you're building. They have to be all in. They're there to help you, support you, agitate you when you're not being thoughtful enough, hug you when you lose a deal, high five you when you win something. They're on the emotional roller coaster with you and they're going to help you create an amazing business and provide some money along the way too.
What made you want to invest yourself in MyPass®?
I've spent a bunch of time in the workforce management space and have some really strong opinions about the future of work. How I think work can be better, democratised, fairer, have more equity in it, provide people with more work options. When I first met Matt Smith and team-member Alex Goldrick, I really liked them. I thought Matt was super smart, very authentic, a really good human, had a wicked sense of humour and was very passionate. It made me want to work with him and so I spent a bunch of time looking at the product and testing out the web app on my phone and computer. I made time to meet your Customer Success Lead, Farie, who I loved and thought was fantastic. I really connected with the product, I liked it and believed in it and more importantly, I thought I could help. I began supporting Matt more and more which eventually led me to become an official advisor to him and the business.
How did you first get involved in the technology industry?

My first role in technology came after I left the Shell Oil Corporation which is where I started straight out of University. Some people thought it was a mistake leaving but I'd always had this hunger to build something, a company, a team and all the rest of it. This is back when building websites was really hard and we had dial-up modems for the internet. It was exciting, it was the future. In comparison to hardware, building software was fast, easy and quick which is very satisfying.

I joined a company called Retail Directions who were looking to build a point of sales system using touch screens which at the time were a revolutionary technology. We built this point of sale which required no training, it had a touchscreen and off the back of that, we built this cool company. This was my first taste of technology. We put the point of sale into every Body Shop store around the world in 2003 which was massive.
After that, I got into a series of startups. Since then, I've been involved in fifteen. I've been really fortunate to build some as part of a team, a board member, an investor and an advisor - it just took off from there. I've been so lucky to meet incredible people in startups across Australia, Asia, the US, Europe and the world.
Where could you envision MyPass ® to be in 10 years?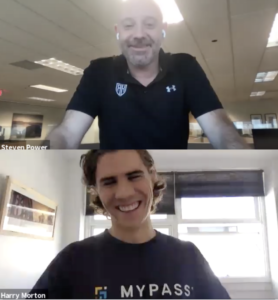 If someone had said to me at the start of 2020 that we'd all be bunkering down wearing face masks, I'd have laughed. The first time someone told me about Uber and said a random person is going to pick me up in their car and drive me somewhere, I said it was the stupidest thing I've ever heard. When they said the same about Airbnb, I thought it was ridiculous. Maybe I don't have the best lens on what's going to happen in the future but I do know things will continue to come along that change everything. Three months is the equivalent of a year in a technology company. So when you say 'ten years' you're effectively asking me what's going to happen in 40 years. If I knew that I'd be preparing to move to space or something.

What I see on a much shorter scale is the next three, six, nine or twelve months. I would like to think that MyPass® will grow. We'll continue to develop the product and expand on our amazing team. We'll continue to expand our services and solutions. We'll build a fantastic brand, people will love working for us, customers will love using the product, and investors will want to come on board. I'd like to think of all these positive things although I'm sure there'll be some challenges and issues we'll have to work through as well. I'm not sure of the exact outcome but I know themes and they'll be growth, success, expansions, people, challenges, and solving problems. In the short-term, I see us becoming bigger, better, having more customers, more people, a fantastic culture, and a great place to work with kick-ass cool software. That's what I want to help make happen.
For investors, I'd say what an incredible investment opportunity, because I really think it is. We have this massive global market and not a whole lot of competition. I don't think anyone sees the market in the way Matt does.
For employees, I'd say what an incredible company to join and what an amazing impact you can have with a fantastic team.
For customers, it's a fantastic product to use. it's enjoyable, it's simple and it's powerful.
In summary, I'm very very passionate about MyPass®. I believe in what we're doing. I believe in us having a huge impact on the world and I believe there's a massive future for the company.