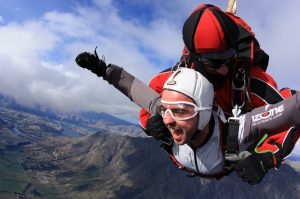 A few weeks ago we introduced you to one of our newest team members Alex Goldrick. We decided to sit down and dig a little deeper into how he came to be at MyPass® as well as his take on the industry today. Alex spoke with co-worker Harry to share his insight.
So Alex you're an Irishman, how did you end up in Australia?
Well, I started my career in 2004 in Dublin after completing a Bachelor of Science in Human Resource Management, I spent 5 years recruiting for clients within the engineering, construction and manufacturing sectors. The Global Financial Crisis (GFC) hit everyone hard. For me, I was working 70 hours a week just to keep a job, so I decided there was something bigger and better out there worthwhile exploring. I'd lived in the USA as a teenager, and having experienced living overseas before, I decided it was time for something new and a challenge. I did my research on the wave of investment in natural resource industries here (in Australia) and ventured across in 2009 with a two-year plan in mind. This decision was career-driven but also by an appetite for an adventure by living in Australia, but also to have travel opportunities across Asia.
What else could you tell us that we wouldn't already know, Alex?
I'm a passionate guy and when I commit to doing something, I give it my all. I really try to do the right thing and to follow through on promises. In the world we're in, sometimes people lose track of the importance of keeping promises, doing the right thing by the people and companies you represent. It's important for me to join a business where others feel the same. It's important to work with people who get it, want to deliver for customers, and want to care for people: it goes a long way.
I also believe that having gratitude is very important in life. We're all very fortunate to live in a first-world country, to have an opportunity to do what we do. Working in a very exciting business like this, we're fortunate. Sometimes you need to remind yourself as it gives the motivation to make the most of opportunities.
What else about Alex? I love my sports, particularly Gaelic football, history and Irish culture. I like classic cars also, particularly old muscle cars as I own a 66' GT Mustang, my pre-midlife crisis purchase. I enjoy fishing, camping and the outdoors. Love a few pints and socialising with friends.
What attracted you to MyPass® in the first place?
Good question. I came across MyPass® in my former role where I used to organise quarterly executive forums, gathering executive-level clients to talk about thought leadership, innovative technologies, that kind of thing. I investigated the MyPass® business and found it very innovative and interesting. Following an introduction with Matt, we both decided to collaborate, and we successfully rolled out executive forum events in both Perth and Sydney.
I believe it's an innovative product and real solution that we're bringing to the market. I also hold Matt in high regard and admire the efforts put in to drive the MyPass® business forward in such a flourishing manner. I was at a point in my career where I was open to new challenges and opportunities to exercise my entrepreneurial ambitions. I'm all about new challenges and new horizons, I really believe in the product and the people behind it.
What is your role at MyPass®?
My primary role is to develop new business and to support strategy allowing the business to grow. I'm motivated to open new channels of business across existing industry verticals, mainly oil & gas, mining, infrastructure and utility sectors. This is a very exciting challenge for me as it will allow me to leverage my existing networks primarily in Western Australia but also internationally.
How have you found the environment so far?
I've come from a very mature and successful business that was established in 1986, holding a strong client base. Stepping into MyPass® I recognised the need to adapt to the scope of my role and become agile within a young company. It's been refreshing to challenge myself in a different environment.
On a personal level, it's certainly been reassuring because we've managed to have a promising dialogue with key target organisations and with some very influential people with decision-making authority. It's been great to attain very positive feedback in terms of the MyPass® system. There's a definite need in the market and a clear point of differentiation. In a business development focused role, there's nothing worse than trying to promote or sell something that you don't believe in. It gives me the confidence to know that we have a phenomenal product, but also a great team to ensure we deliver on promises to customers.
How would you sum up where you think the industry is headed at the moment?
From an oil and gas perspective, I'd highlight that whilst the world is still moving towards renewable energy, which is great and needs to happen, there are still 1.3 billion people without power. Ultimately transitioning to cleaner renewable energy will take time and a lot of investment. The reality is that fossil fuels will be required for some years to come but in recent times there have been cuts in the exploration and development of new reserves, so there's going to be an obvious gap in reaching supply versus demand. As a result, we'll likely see a rise in oil and gas prices which is now driving a ramp-up of investment activity within the global energy industry.
The mining and minerals sector industry is in a more advanced investment cycle position having had more stable commodity prices in recent years. The volume of committed projects globally is significant and we will see a positive impact on economic conditions. Locally, there is an expected talent crunch ahead with companies struggling to attract and retain skilled workers, mainly blue-collar trades. MyPass® is uniquely positioned to support customers with this challenge.
Infrastructure wise, Australia has some ongoing major investments especially on the East Coast in Sydney and Melbourne which will continue to develop. Northern Territory is another hotspot with significant defence-related infrastructure projects planned and or already in construction.
How does MyPass® fit into that picture?
The outlook is promising and very exciting for MyPass® and the team. We have a great product that offers real solutions to industry-wide problems. In my opinion, it's about partnering with the right clients and strategic partners that have leadership willing to embrace new technology and innovation, and leadership that isn't afraid to challenge the status quo. The digital age is upon us and it's really a great opportunity to be involved and to be associated with what is an industry-first system.