Our team were proud to take part in AOG 2020 (Australasian Oil & Gas (AOG) Exhibition) last week as part of the NERA Technology Showcase.
We are grateful for the continued support we've received from NERA. In this case, providing a platform for Australian tech startups like ours to get valuable exposure.
Despite the Oil & Gas industry facing a challenging period, we felt a strong sense of optimism from those participating in the conference. Many have experienced similar uncertainty in the past and bring with them a willingness to persevere. Even in this 'down market' we had a steady flow of visitors exploring how to use innovative solutions such as MyPass® to reduce their risk exposure and streamline back-office processes.
Here are a few of our highlights from our two days spent at the AOG 2020 conference.
Live Product Demonstration
Our Product Manager, Peter Vostan, delivered a live product demonstration to a group of pre-registered guests. He walked them through the key features of the platform, demonstrating its ability to help businesses manage their workforce and stay on top of compliance. He answered their questions and the team was happy to stay back with a few guests and speak further about their specific needs. Thank you to everyone who attended.
60-Second Pitches
Our founder and CEO Matt Smith participated in the 60-second pitch battles led by along with 16 other innovators and SME's from the industry. He did us all proud to deliver a clean, value-focused pitch that you can watch for yourself here. This is a skill that in the past we've challenged our whole team to have a go at, practising their best elevator pitches with each other. You never know when you might need it!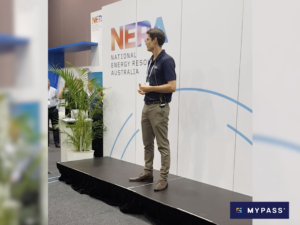 AOG 2020 Opening Session
During the opening session, we enjoyed listening to various speakers who are involved in the industry at different levels. Mark McGowan, Premier of Western Australia, opened the exhibition by speaking about wanting to establish WA as an "LNG Hub" and global leader in this space. We were also excited to hear about the progress that the LNG Taskforce is making, in particular with regards to standardising role-based competencies for operators.
Operator Sessions
We were able to participate in the sessions delivered by Shell Australia, Woodside Energy, Santos and Chevron. Each of these players demonstrated a clear intention for the future development of their businesses and activities in Australia. Both Shell & Chevron spoke about plans for long term investment in the region, with new fields in planning to backfill both the Gorgon, Prelude FLNG and Wheatstone projects.
Santos was excited about the Barossa and Dorado projects with Woodside continuing their efforts in the Burrup Peninsula with Scarborough, Browse, Pluto LNG Train 2 and other existing infrastructure. Each of these operators demonstrated a commitment to developing their assets with the current uncertainty of industry only impacting the timeline of when that development can occur.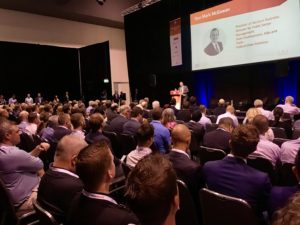 No longer the 'new kids on the block'
A refreshing takeaway for our team was that this year there were so many attendees who were aware of MyPass® and what we're doing in the technology space. This was a sign that our work and brand is starting to grow through the resources sector as a result of some big wins in 2019. With MyPass® continuing to become more of a known entity amongst Oil & Gas operators, we're excited about the potential partnerships that lay ahead for us.
That's a wrap on AOG 2020
Overall, we took plenty away from our two days spent showcasing MyPass® at the AOG 2020. Most of all, we recognised the need in the current challenging marketplace for businesses to drive technology and innovation. This will ultimately reduce the risk of exposure and reduce costs across operating businesses. If this low oil & gas price environment continues, MyPass® Global is happy to be in a position to support the streamlining of the labour supply chain, and give an entire industry the ability to collaborate via an 'industry standard' operational performance enhancement tool.
https://credit-n.ru/forex.html https://credit-n.ru/informacija/banki-s-otozvannoj-licenziej/list-cbr-credit-organizations.html