In today's current climate, it is increasingly difficult to secure qualified personnel to meet existing and future resourcing demands. Here at MyPass, we're hearing from a lot of our connections that one of the biggest constraints to their organisations meeting their objectives is access to skilled personnel.
We believe a leading reason that companies are struggling to attract enough workers is that they don't have the tools to be proactive in their search. Fundamentally, this involves a shift in mindset. Instead of hoping the correct workers will find your SEEK advert at the exact time you need them, it's increasingly important to get ahead of your resourcing needs.
Build national talent pools
The first thing you can do to attract skilled workers is to build national talent pools. To do this, it is important to distribute Expressions of Interest well in advance. By segmenting your talent pool by region and role, you'll be able to assess where your skill shortages may be. One way to fill these gaps is by not discarding any unsuccessful applicants as these workers could be perfect for your future vacancies. You also need to communicate with your workers early and often and provide information on why they should be excited about joining your organisation.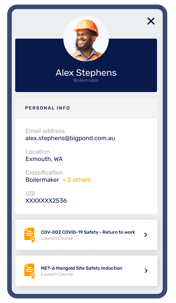 Be easy to engage with
The second thing you can do to attract skilled workers is to be easy to engage with. When onboarding personnel, it is important that you do not put applicants through a lengthy process where they have to upload their same documentation in multiple locations. Our solution is the MyPass Skills Passport, which has a clean and easy-to-use digital interface. Through this Skills Passport, workers can chat with you online and upload their documents using a simple, user-friendly process.
Take a long-term view of your labour requirements
The third thing you can do to attract skilled workers is to take a long-term view of your labour requirements. To achieve this, you need to conduct regular capability planning and 6 to 12 month forward plans of work. Other methods include building skills from the ground up, bringing on new starters into a structured onboarding program or looking for opportunities to 'build your own'. In 6, 12 and 24 months' time, you'll be able to reap the benefits from all your hard work.