The process of securing client work can be arduous and time-consuming, so it's important to have the resources to deliver on your promised standards. Improve your ability to deliver by securing competent workers early, rather than competing for talent and driving up wages.
Ways to secure capable personnel
The first thing you can do is proactively build talent pools by engaging workers early and regularly. By incorporating the right software solution, workers who have been employed in the past can be a useful source of skilled labour.
The second thing is to have a coordinated internal approach to ensure that you have enough capable personnel with the right skills at the right time. The right software solution can reduce the lengthy process of verifying qualifications to make sure your business remains compliant.
Thirdly, we suggest building your employer brand by ensuring your hiring processes are straight-forward. The right technology will enable you to suggest additional skills to help workers on their career path, whilst plugging any future skills gaps.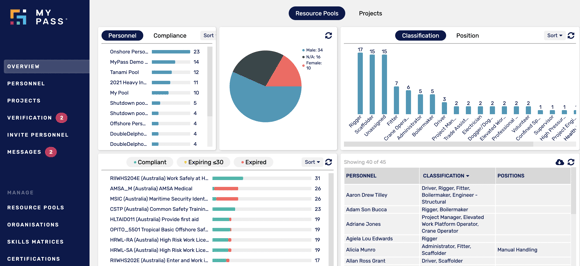 The right software solution can do all of the above and more.
MyPass is designed to ensure organisations have access to enough skilled workers to meet client standards and commitments.
Our technology simplifies competency management and makes it easier to build skilled resource pools. The onboarding solution provided by MyPass is a smart way to save time and money while improving the experience for new employees. Fill potential skills gaps for upcoming projects by providing a workforce planning framework to strategically create pools of skilled workers who are job ready when you need them.