With the year coming to an end, we're taking the opportunity to celebrate an important internal milestone. We've recently had a cultural face lift, and are now excited to unveil our new people-centric values.
Why the change?
We've come a long way since our inception. Not just as a company, but as individuals. After coming into our own, we wanted to ensure our brand, team and clients all connected in a way that felt authentic to us.
As a company that sees the best in others, supports each other to succeed, and celebrates each win, we knew the depth of our brand was more than compliance software. We are a brand that pushes the limits, innovates and most importantly, empowers.
Meet our new values
A lot of time and consideration went into this cultural facelift, and as a team we placed our hats together to land on these values.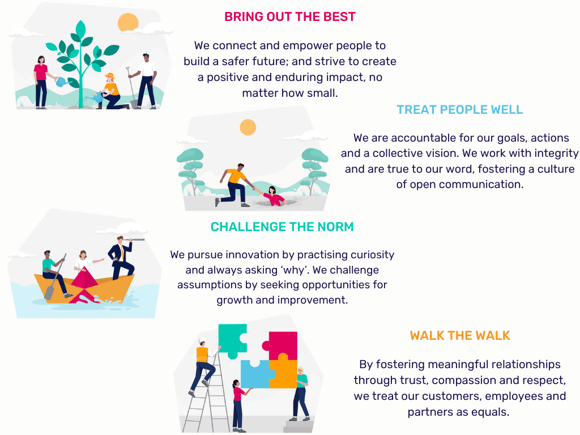 MyPass value touch-points
We practise what we preach. MyPass emphasises the importance of versatility, innovation and empowerment among the team and with our clients, and this has heavily influenced our new identity.
From recruitment and career development, to Lunch&Learns, policy reviews and team meetings, these new values touch every part of MyPass's culture.