In today's work environment, the challenges to source skilled workers are compounding. In fact, over 90% of Australian and New Zealand businesses believe that skill shortages will impact operations or growth in the next year. In many industries, the ability to maintain safety excellence is increasingly difficult without access to the appropriate personnel.
In many highly regulated sectors, MyPass finds that organisations are competing against their peers by operating standalone systems to track contractor competency. Through data sharing and collaboration, MyPass can alleviate these issues along with other external pressures.
What pressures on the industry?
Multiple unforeseen macro pressures are pushing organisations to compete with their peers to maintain safety standards and stay on schedule with projects. These are not limited to, but include surging cost pressures, a shortage of international workers, post COVID-19 circumstances, health and safety legislation, and issues surrounding Social Licenses to Operate.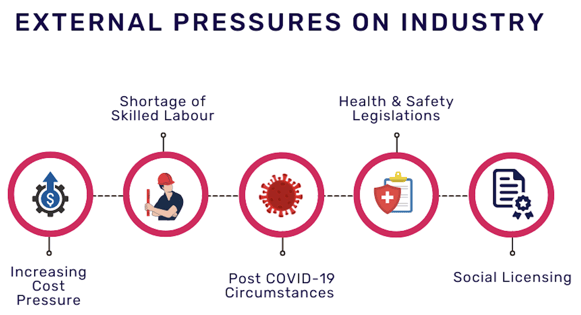 What are the benefits of collaboration?
Collaboration has shown to have intrinsic benefits for industry. Not only does it boost productivity and performance, it can solve deep-set problems by addressing the collective experience. A great example of industry collaboration is the Safer Together initiative by Verisafe, created as a common industry framework with programs such as the Verification of Competency Program, Common Industry Safety Inductions, and common Fitness-to-Work medical assessments.
At MyPass, we support such collaborative initiatives and are proud to be providing common digital infrastructure for industries to simplify, standardise, and share information. This way, organisations can leverage existing verified industry data sets, share best practices, improve bottom-line performance, and ultimately create safer workplaces.