In many sectors, workforce demands change and evolve consistently. This can create an administrative nightmare for organisations who don't have a verified pool of competent workers to cope up with the changes. Traditional onboarding processes and technologies can make it difficult to find the right personnel with the right skills at the right time.
Skills management software to empower your people
The implementation of an effective skills or contractor management software can help empower and connect contractors while ensuring that they are accountable for the upkeep of their compliance documents. This is a shift towards a proactive model of profile management as individuals receive expiry notifications, can book and complete online training within the platform.
Build and access verified personnel pools within MyPass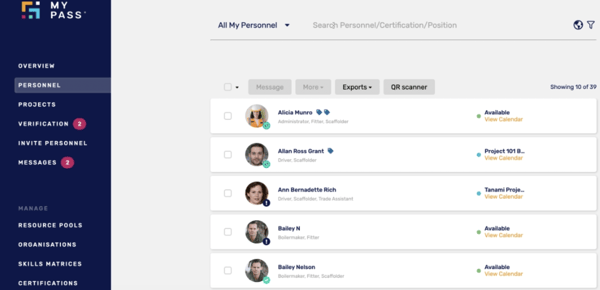 MyPass is a digital workforce management software that lets your contractors own, manage and update their competency documents. This in turn helps your organisation to reduce admin effort, and fulfil their skills and compliance requirements. Another benefit is the ability to connect with pre-verified individuals and add them into their pools so that they can be quickly mobilised when required for a role or project.