In today's climate, it's critical to look for savings, both in processes and technology. With an increasing need to be operationally efficient and a growing expectation to do more with less, MyPass has come up with an innovative solution that has been proven to reduce the cost of contractor onboarding by up to 70%.
Our software can reduce mobilisation time & administrative effort
A real-life example of our software reducing costs was seen in 2019, when Incitec Pivot, a leading manufacturing company, started trialling MyPass for its Brisbane operations. Through this trial, we were able to reduce contractor mobilisation time and achieve a significant reduction in administration effort from 4.5 full-time employees down to 1.5 full-time employees. We were also able to fully integrate Incitec Pivot's online training inductions, with over 1,000 training modules completed online over 6 weeks. Thankfully, our verifications team, which checks every document uploaded to MyPass, also detected fraudulent certifications that would not have otherwise been found.
Our software can reduce workforce management costs by up to 70%
Another example of our proven technology reducing costs was seen through collaboration with The University of Western Australia. Here, we were able to pilot test our product with a tier 1 maintenance company. Through this independent study, we were able to demonstrate potential savings on workforce management costs of over 70%. Through workflow tracking, we were also able to reduce the process steps it traditionally took to onboard a contractor from 110 down to 39 steps. With resources freed up, the tier 1 maintenance company was able to improve their bottom line and re-allocate funds to higher value-add activities.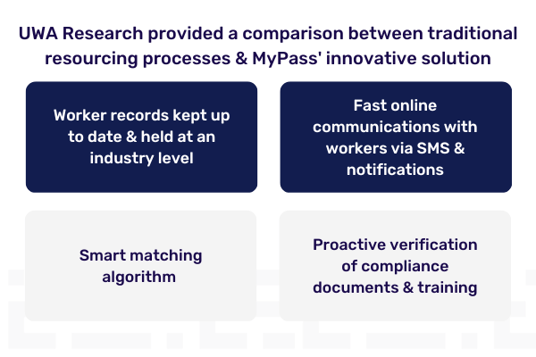 How does MyPass achieve these significant cost and process savings?
Our industry-leading Skills Passport is at the core of our solution and is the key to significant cost and process savings for our clients. Our multi-award-winning Skills Passport is empowering workers to manage and be accountable
for their own credentials and information. This creates a 'single source of truth' for the information needed to onboard and manage that individual. Major organisations are already using MyPass to enhance safety performance and are paving the way for others to join this movement towards simplification and standardisation. Book a free personalised demo to learn more.