Today we celebrate one of our newest talents, Nina, as she makes the move from an intern to a permanent full-time employee. Nina has hit the ground running as a Junior Developer Intern at MyPass®, since starting with us three months ago.
We very quickly realised that we were onto a winner with Nina and made it clear that we'd love her to join the team for good. Here are Nina's reflections on how the journey has gone so far and what she's excited about next.
How have your first few weeks been?
It was really fun. I enjoy the team and we've really hit it off which was important to me. I wanted to find a place where I could go and enjoy my work, learn a lot, do what I love and be supported while I'm learning as well.

After my first interview, I was quite smitten with MyPass®. I enjoyed the honesty and straightforward answers. In interviews, I can see when people aren't passionate about their jobs and look tired, which gives the impression that it wouldn't be a joyful experience to work for them. When I interviewed for MyPass® it was the opposite, which is why I wanted the opportunity to work here. When I came in and my first day passed, I thought "Oh my god, it's as good as it was advertised."
I love having different sessions and hearing everyone's point of view and how they see themselves in MyPass® – what they want to achieve and how they see the product growing. It made me think about how I can contribute and it was valuable to be able to contribute in an immediate way, using the skills I already have to help the product grow and improve.
What was your journey to this point in software?
Like any other millennial, I was always working online with blogs or exploring code, but I wasn't really sure if I could ever do it for work. It's funny to look back and think that I used to worry that I wasn't right for Computer Science but would then go away and build a website over a weekend…
When I was in Melbourne, I attended a workshop with Django Girls. During that session, I realised I really wanted to code and that this was the industry I wanted to be a part of. The way I see code is as a creative tool to bring your ideas to life and see it work for other people as well. It's a bit magical in a way. In 2018, I had a New Years resolution to do one hour of code every day. I was waiting to become a permanent resident and study Computer Science, so I had a limbo period where I could start to learn on my own. Then the SheCodes program came up - I applied and I was lucky to get in. It was an intense six months of learning to code. At the same time, I was working full-time in a customer service role, which was a great experience speaking with customers and seeing how they use your product and interact with your website. After I finished at SheCodes, HBF brought me on as a Digital Producer and I learnt a lot about maintaining websites, consistency with your brand, A/B testing and a little bit of code. Unfortunately, I found myself in a position where I was doing less code, where I really wanted to be coding more, which is about the time I found MyPass®.
What was the SheCodes experience like?
We went through 4 languages and 2 frameworks in the six month period that we were in the course. HTLM, CSS, Javascript, Django, React & Python. It was really intense and every four weeks we'd have a project that we needed to submit. It was so valuable because we were shown how to ask questions and how to make mistakes. We were taught that every problem has a solution which is a great skill, even in your day to day life. SheCodes was really helpful with that.
Why is SheCodes important for the industry?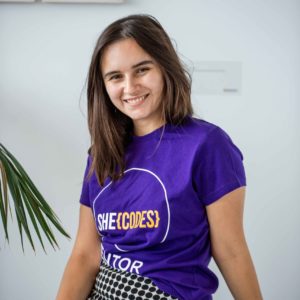 Exposing technology and the tech industry to people who wouldn't necessarily be exposed to it is amazing. You create connections with women and others in the industry that you wouldn't otherwise - the relationships you create are very valuable and meaningful. They teach you that making mistakes is completely fine. A lot of students who come into the program are scared of making mistakes but once you overcome that, you have this amazing wealth of knowledge and huge support, knowing that you can create whatever you wish for yourself if you fully commit.
What's something we wouldn't know about you otherwise?

I speak a few languages like most Europeans, Bosnian & Croatian mainly, then a little bit of Spanish, a little bit of German and obviously English. I came to Australia from Bosnia in 2017 with my husband. In Bosnia, you learn English and German in school, but I watched a lot of soap operas and when I was around 12 or 13 I created a blog where I'd translate Spanish TV shows, so that's how I learnt Spanish.
When we migrated to Australia, we were originally in Perth, moved to Melbourne for a period and then back to Perth. It was a bit of a challenging experience in a way because when we were in Bosnia, I had a really clear plan for my life and where I wanted to go, but then flipped that on its head by moving to Australia. I didn't have any friends here at first or know anyone, but one thing that really helped me was actually signing up for improv acting classes. It was interesting because education in Bosnia is very rigid and scripted, which made improv super challenging for me at first. After a while, it helped me improve my English and become a bit more spontaneous. I love it and perform every fortnight on stage at a bar in Perth!
What's next for you & how do you feel about joining us permanently?
Diving into code is really fun and I'm enjoying learning at this pace. I'm really excited to see how I can improve the user experience in MyPass® and how we can make the whole product pop - how we can make the visual side of it really shine. I'm excited about learning and seeing the product shine.