A heap of work goes on behind the scenes at MyPass® to propel our growth and, most importantly, our ability to serve the needs of our customers. The recent product updates were designed to create better user experiences and accessibility for all users.
Changes to MyPass®'s product language
The language used in the MyPass® industry application has been updated to better match the needs of our customers across Mining, Oil and Gas, Health and Aged Care, and Volunteering. These changes are subtle and don't impact any functionality within the MyPass® ecosystem.
The language changes are:
Workers [changed to] Personnel
Worker Pool [changed to] Resource Pool
Worker Passport [changed to] Digital Passport
You'll now be able to see these within the MyPass® industry application: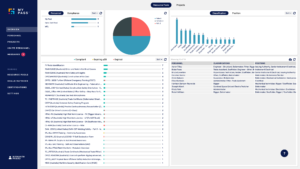 Easy sign-up
The process for setting up a Digital Passport is now less specific to the Energy and Resources sector, which was previously confusing and impacted the user set-up success ratio. We've also simplified the onboarding experience by reducing the level of required data input and ensuring only relevant fields are presented.
Complete user profile and capture custom data
This new feature enables the capture of critical information, which was not required to simply set up a Digital Passport. For example, the user can now add emergency contact details and industry-specific information. This makes MyPass® more powerful for the user, and the entire supply chain.
Business Partner Industries
Business Partners are now about to define the industry they operate in, which in turn allows MyPass® to display industry-relevant information such as search criteria.
Industry Tags
MyPass® can now classify a Tag as an "Industry Tag" which are in turn displayed on the Digital Passport. This greatly simplifies the use of MyPass®, whilst increasing the flexibility of the system. Any industry-specific (text-based) information that should be stored on the Digital Passport, can now easily be set up. Anyone who has permission to view the details of the Digital Passport will be able to see the Industry Tags.
For now, Industry Tags are configured by MyPass® and operate at a global level. This is because MyPass® strives to become an industry standard for compliance management, though future iterations may support in-app configuration for private Industry Tags.
Relevant Industry Tags will be visible as search and filtering criteria within MyPass® Search.
Link previews
We've listened to your feedback and have optimised the way role URLs are displayed when shared on social media and recruitment sites. A role summary, image and key details will now auto-populate when the role URL is shared online, making it more visually appealing and easier to understand the role before opening it.