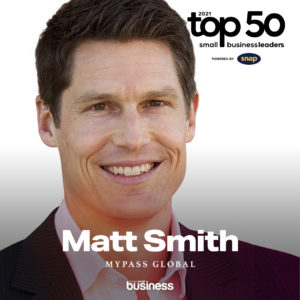 Founder and CEO Matt Smith has just been announced as one of Inside Small Business' Top 50 Small Business Leaders. The award celebrates a diverse bunch of inspiring leaders operating across Australia, and we couldn't be happier that Matt has received this recognition.
Matt set out to disrupt the traditional approach to workforce compliance management by simplifying the process of engaging skilled labour for sites. A research study by UWA validated Matt's first-hand frustrations by showing the process entailed as many as 117 steps from requesting a worker to them showing up to work fully compliant. With MyPass®, the process has been cut from 177 to 44 steps, saving up to 70% of operational costs, and reducing risk exposure for businesses in highly regulated industries. We have since found that the technology originally developed for mobilising workers on large Oil and Gas facilities, is transferable across many industries including Volunteering, Aged and Health Care and Defence.
We believe MyPass®'s success can be partly attributed to the values instilled by Matt and maintained by his 52 strong team. These are curiosity, passion, trust and resourcefulness.