This week is NAIDOC Week 2021, existing to celebrate the history, culture and achievements of Aboriginal and Torres Strait Islander Peoples. The entire MyPass® team acknowledges the traditional owners of the land on which we live and work.
The theme of this year's celebration is 'Heal Country', calling for "stronger measures to recognise, protect, and maintain all aspects of Aboriginal and Torres Strait Island culture and heritage."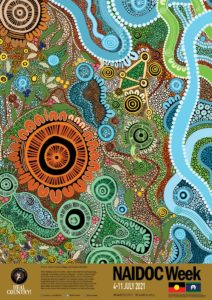 Over the past month, our team has taken the first steps to understanding more about Aboriginal and Torres Strait Islander people, our Indigenous footprint as a business and how we wish to engage with Indigenous culture moving forward.
Admittedly before this, we hadn't actively explored this space as a business and it took a brave employee to speak up during Reconciliation Week 2021 (27 May – 3 June) to inspire us to do more. We couldn't be prouder of the response from our people since.
Our team has spent the last month putting the microscope back on ourselves to understand more about our Indigenous footprint, where our knowledge gaps lie and engaging with a network of Indigenous people to hear their perspective on how we move forward.
A highlight of the past few weeks was being joined by Ian Martin, a proud Kunja/Budjiti man, who spoke with our team at a Lunch & Learn session last week. Ian delivers Cultural Awareness workshops and training for businesses, using his own experience and journey as an Indigenous man to teach others about Aboriginal and Torres Strait Islander culture. In the short space of time that Ian spent with our team, he had a profound effect and left our people with a strong desire to learn and do more in this space.
"That was truly moving mate, thanks for organising"

"Very insightful. Learnt some new things"
After the session, we implemented some immediate changes into the MyPass® software based on lessons we learned from Ian. We'd highly recommend engaging with Ian for your own team and we'd be happy to put you in touch.
As a business, this is very much the start of our journey engaging in Aboriginal & Torres Strait Islander culture. As people, our team have had their own experiences in this space which they're openly bringing forth to help guide us.
We encourage you to join our people by getting involved with NAIDOC Week 2021, whether it be attending an event, watching a movie, listening to some Indigenous music or sharing information to help educate others as well.