The extension of the Victorian Government's funding of the weVolunteer project is an exciting milestone for MyPass® and our support of the Volunteering sector.
As the technology partner alongside Volunteering Victoria, we've worked closely with stakeholders to support the rollout of over 2,000 individual volunteer passports and more than 40 volunteer organisations in MyPass®. Not bad for a platform originally designed to support the Resources sector.
After twelve months of user sessions and capturing valuable feedback from volunteers, we're excited to expand our Passport technology to further meet their needs. This involves the recent introduction of Roles functionality, helping volunteers manage multiple engagements at once.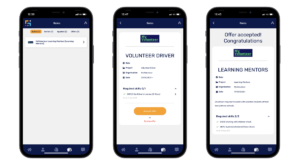 What does this mean for volunteers?
We know that when volunteers are looking for opportunities, they are likely to engage with multiple organisations and roles. This presents the challenge of staying on top of all the applications they've submitted across a range of platforms and organisations. Volunteers expressed that they want to easily see the status of roles they've engaged with using their Passport. MyPass®'s new Roles feature is now active for users to do exactly that, simplifying the end-to-end process for engaging with volunteering roles.
Since its inception, the MyPass® technology has supported users to apply for roles, receive invitations to apply with existing connections, accept role offers and show when they are currently active in a role. It was a no brainer for us to centralise all of these actions so that Passport users can view, track and manage roles in one place. By presenting the status of all volunteering roles, MyPass® helps simplify the application process and create a better volunteer experience.
A key reason for the Victorian government supporting MyPass®'s involvement in weVolunteer is the portability of verified credentials and information in the passport. This allows them to be shared by volunteers with multiple organisations at once, using the passport as their single source of truth. Adding useful features to the Passport to create even more value for volunteering is an exciting next step for us.