MyPass® Global is happy to release our white paper The Future of Contractor Management in Highly Regulated Sectors.
The paper gleans insights on the considerations businesses will need to take to ensure efficient and compliant contractor management as industries evolve. This is based on an assessment of current contractor management practices, the gaps that exist within these practices, risks that have been created as a result and the actions required to prevent making these mistakes moving forward.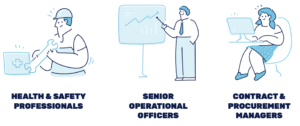 The paper has been designed specifically for health and safety professionals, senior operational officers and contract or procurement managers who want to be at the forefront of industry change, introducing win-win outcomes with contracting partners. Key areas of learning within the paper include:
A key feature of this paper is a Self-Assessment Tool, enabling you to assess how well your business is looking beyond traditional approaches to contractor management. This is accompanied by a number of questions that help you to gauge how aligned your current practices are with the future direction of industry practices as they evolve.