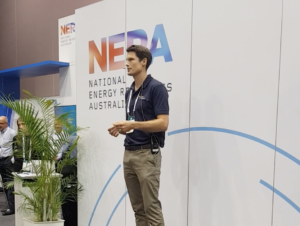 Matt Smith, our Founder and CEO, talks about COVID-19, adapting to working from home, and responding to the pandemic with innovation.
Few events throw a 'spanner in the works' quite like a global pandemic. Since February 2020, the global workforce has been grappling with lockdown and social distancing regulations, travel restrictions and the unavoidable economic downturn caused by COVID-19.
We caught up with Matt Smith, founder and CEO of MyPass® Global to talk about the impact on his team and company, his observations on the Energy and Resources sectors response to the pandemic, and the opportunity that has emerged to innovate. Welcome Matt, and thanks for joining us.
Do you remember a defining moment when you realised the pandemic was to be taken seriously?
Yes, it was in late February in Perth, during a discussion with Peter Vostan from my leadership team. COVID-19 was beginning to seem like a global issue rather than a China-centric concern, but admittedly at the time, I was still in denial mode.
I vividly remember sitting in that booth, hypothesising around the potential impact on Australia, stating "Wouldn't that be crazy if the schools closed down?" Well, all that happened and more. It was at that moment that it began to feel real, and from there we responded and quickly moved the team out of the office.
What were the key issues you faced as CEO and founder?
For us, it was basically maintaining business continuity to ensure we could still service existing clients while envisaging what the future might look like from a cash flow position. We couldn't predict how much the market would contract so had to manage logistics by making educated decisions to reduce spending where we could. The fact is we're quite geographically dispersed anyway, so we had to make sure all our teams were set up to work from home, and in particular, our development team had to learn how to maintain effective work processes and interactions. We made sure everyone had proper WIFI and a place to work from, plus we improved team communications by increasing the frequency of online calls to make up for the lack of physical contact.
Our priorities were around business continuity and making sure that A. we could service existing clients and B. that our business was going to emerge in a good state once the wave had passed.
How did the team fare with working from home?
We were fortunate that we are quite a mobile, distributed workforce in the first place. We already were heavy users of online platforms like Slack, Zoom and Miro. The team already benefited from flexible work arrangements, with many opting to work from home one day a week, so it was a change but it wasn't a fundamental revolution. For myself, rather than jumping on a plane every week, I could focus more whilst working from home.
We prioritised checking in on our team's health and wellbeing. Harry, our People and Culture Lead, set up a WFH Slack channel and doubled down on setting up weekly team meetings to check-in and share any updates to create a sense of community. I and my leadership team focused on maintaining our supportive culture by frequently bringing all the team together, checking in, and making time for small things like virtual drinks on a Friday. On one occasion we had a Zoom dress-up theme (with matching backgrounds)!
How do you think the Energy & Resources sector responded as a whole?
The Energy & Resources sector was hit with a 'double whammy' because as well as coping with the direct impacts of COVID-19, it experienced a significant oil price shock due to Russia & Saudi Arabia price war. This pushed down the prices, which forced the industry into crisis and containment mode, sadly resulting in redundancies and the consolidation of overheads, companies restructuring wherever possible.
On a positive note, I think the sector responded well and it was pleasing to see the fast-tracking of collaborative initiatives by bodies like Safer Together, which led in coordinating with other organisations in Australia and internationally. Various international Oil and Gas associations are now collaborating on best practices, templates and protocols to help share and cope with COVID-19. It's great to see this kind of rallying together. Projects were accelerated and the sharing of information in the name of health and safety came to the forefront. Companies are now emerging out of the restructures with much tighter budgets and constraints, and that really reinforces the need for the application of efficient digital technologies. To the credit of the sector, things are now happening at speed, with companies opting to accelerate their technology solutions, opting for more innovative approaches.
How did MyPass® pivot its technology offering to meet the needs of clients in the Energy & Resources sector and beyond?
MyPass® is fundamentally set up to track worker competency data, often including pre-employment medical checks, so when one of our advisors said "Aren't you guys a good solution for this COVID response?" I sat down, processed it and thought "You know what, I think we've got a role to play here."
We found that companies were asking the same 4 or 5 questions to their workforce, like 'Have you been overseas in the last 14 days?'. This was causing a significant burden on the individuals, on the companies, on sites and it equated to the same information being captured and duplicated in multiple formats. As an alternative to each company using their own self-declaration form, MyPass® could efficiently track, manage and share this information as a real-time, 'single source of truth' dataset. In collaboration with our LMS partner Clui, we built an industry-standard Self Declaration form to automate this process. Workers can complete a form, which is then stored digitally in their MyPass® profile and is visible on their employer's dashboards. It can be presented as proof of ability to work on-site and can also extend to essential worker status for workers who need to travel across borders.
Lastly, we offer the ability to efficiently disseminate training COVID-19 protocols around health and safety, regulation and hygiene – not just to internal teams but also to contractors. A lot of companies like Santos are still using these features, including the utilisation of MyPass®'s chat function to communicate frequently and efficiently with workers. Many companies found they didn't have up-to-date contact information for on-site workers, stemming from the issue of trying to maintain workers' information on their behalf. We just don't believe it's the right way to do it and have instead opted for a worker-owned and controlled data model. We're really glad that this model has paid dividends during COVID.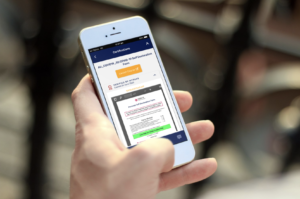 We know that MyPass® is a value-driven company. Did the pandemic offer any opportunity to help?
So our vision is to 'Empower safe, agile and connected communities' and within that we see strong obligations to contribute where we can. The ability to offer the Self-Declaration form and other associated COVID features was something we decided to offer for no charge to any organisation, including the Aged Care sector. Around 150-200 companies signed up to our offer and that number is growing every day so it's been really satisfying to help in that space and form new partnerships.
In another recent development, MyPass® will be collaborating with the Victorian Government and Volunteering Victoria on an upcoming project involving the credentialing and registration of volunteers to assist with community programs. It's really nice to know that the same platform that was designed to mobilise off-shore Oil and Gas workers and to make sure companies have compliant, skilled workers on-site, is the exact same platform that we have been able to deploy in a matter of days to help volunteers contribute to the solution. We're grateful to support this hotspot of need for the Australian economy in general.