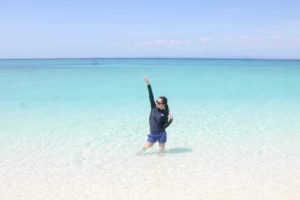 Meet Cristina, or more casually known as "Tin-Tin". She started at MyPass® over five years ago, joining Shutdowns Australia, the genesis for MyPass® Global. In many ways her story mirrors the growth and development of MyPass® as a business from its inception through to today.
Tin-Tin is a key player in the MyPass® Support team, based in Cebu in the Philippines, acting as the Fulfilment Team Lead. She's spent nearly three-quarters of her life in a city that has a population of just under a million people. Growing up in a small village outside Cebu with ten brothers and sisters, her schooling was a challenge and so she left home in high school to live with extended family in the city. With the funding of her continued education in doubt, she worked as a house helper to pay her way through college.
During this time, however, she was encouraged to apply for a scholarship at the University of San Jose-Recoletos. She was accepted as a "working student" and worked hard to complete a Bachelor of Science in Commerce (Majoring in Business Administration) in 2008.
She's had a number of varied work experiences before joining MyPass®. Starting out at the Metro Gaisano Colon, one of the biggest retail stores in the Philippines, she was the Officer in Charge of a jewellery department. Tin-Tin then took a role as a Technical Assistant at the Rizal Commercial Banking Corporation and after this worked at Brilliance E&M as an office administrator. Her last role before joining MyPass® in 2015 was as an SEO Advisor for Smart Traffic.
Outside of work, Tin-Tin speaks fondly of time spent travelling with friends, exploring the outdoors, going to the movies and eating out with her siblings. She says that if you ever visit Cebu you must try her favourite food, Lechon, which is a Filipino-style roast pig and apparently one of the most popular foods amongst locals.
Tin-Tin recalls seeing an opening for a position at MyPass®, being interviewed by Matt Smith and accepting a job offer that same day. She reflected on the early days of MyPass® when they'd manually match workers with companies based on the requests that were sent in, a task now automated by the software built into the platform. She said that over time it was crucial to learn the finer details of MyPass®'s functionality to really help with customer requests. Tin-Tin has seen the platform and business develop so much over the past four years she is proud to be a part of the team making that happen. She says that her favourite part about her role is "being given the chance to explore the platform as MyPass® is very different to other services. It's a unique platform that makes us a pioneering company when it comes to our industry approach." It can be said that her own desire to learn and grow has matched the development of MyPass® itself over time.
When asked what the best advice she's ever received was, Tin-Tin was quick to answer.
"Don't lose hope and never give up – everything is just temporary, you'll achieve everything you dream of if you stick to it."
She believes that the personal experience of losing her sister in 2014 makes this advice ring even truer. Tin-Tin is very proud of what she achieved and has a great appreciation for what she's created for herself based on how hard she's had to work for it. Everything about her exudes the values of growth, perseverance and gratitude which are exactly the traits that make her an important member of the MyPass® Global team.