MyPass Global Partners with National Crime Check (NCC) to Offer Integrated Solution
Today marks the launch of MyPass® Global's partnership with National Crime Check, a leading background check organisation servicing multiple highly-regulated industries across Australia. Together, we are offering an exclusive discount on nationally-accredited Police Checks, available to order directly through the MyPass® platform. The tool is fully integrated with our cloud-based technology, ensuring ease of compliance and transparency between employers and workers.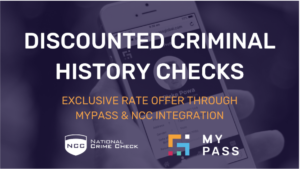 The Fuel Behind the Partnership
With the global workforce progressing towards innovative, digital solutions, MyPass® caters to the rapidly increasing demand for a streamlined process to guarantee worker safety and compliance. The NCC integration now makes it possible to book Police Checks directly through MyPass® user profiles, thus simplifying the process of obtaining and managing accredited checks all in one place. Employers have real-time visibility of workforce compliance and their workers have a quick and easy route to gaining and presenting their checks in one central location. The results of employee Police Checks will be reflected in their worker profile in real-time, thus providing employers with a holistic view of the individual and their suitability for employment.


Worker Perks
Applying for a new police check is quick, straight-forward, and available at the exclusive rate of $39 (including G.S.T)

Police Checks will typically be processed and verified within 1-2 business days before status is presented within the user's MyPass® profile

Ensuring police checks are valid, verified and up-to-date reduces the wasted time associated with clunky administrative processes. In being proactive with checks, workers can improve their safety compliance and employability
Create or log in to your MyPass® Profile to book your accredited NCC Police Check for this exclusive price.

Benefits for Business
Police Checks can be ordered directly through our system quickly, easily and for the exclusive rate of $44 (including G.S.T). The integration removes the need to search for Background Checking sites

Companies can make informed, evidence-based business decisions using real-time visibility of workforce compliance

Resourcing, recruitment and onboarding is streamlined with live data insights on worker compliance and employability

The NCC integration enhances the peace of mind that comes with knowing workers are skilled, compliant and qualified to do the task they've been hired to do

Communication and transparency are greatly improved by connecting workers, asset owners, service providers and RTO's via a 'single source of truth' dataset
To utilise MyPass® for your organisation's accredited Police Checks, contact our team via enquiries@mypassgobal.com