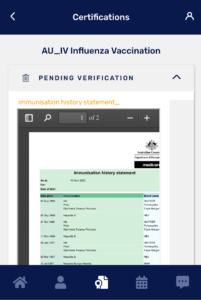 MyPass® Global has enabled workers to upload their Immunisation evidence to their digital work passports. This is a response to protections introduced requiring anyone entering an Australian Aged Care facility to have had their Influenza vaccinations.
The feature will allow workers or visitors to produce evidence of their immunisation records on their mobile device when entering a facility. It also enables employers to manage their workers by gaining visibility on who has had the appropriate vaccinations. Aged Care facilities can temporarily register for free access to the MyPass® platform for this purpose.
In a statement released by the Department of Health on April 1st, appropriate evidence of immunisation status was defined as "a statement or record from a health practitioner; or an immunisation history statement available from Medicare online." Both of these types of documents are able to be uploaded to any worker MyPass® profile when they register for a free account. This information can then be shared with a facility or employer using a unique URL, QR code or PDF document.
Matt Smith, CEO of MyPass® Global, said, "We're proud to be assisting Aged Care providers to safely screen people entering their facilities. In addition to our COVID-19 Self Declaration form, we're making our technology accessible to bring these protective measures online and simplify the process for everyone. We want workers to be able to produce relevant, verified documents at the touch of a button. Eventually, once the COVID-19 vaccine is in place, we hope MyPass® can be a complete management tool for tracking a worker's COVID-19 status."
Despite the Influenza vaccinations only being mandated for people entering Aged Care facilities, the MyPass® feature is available for all workers in any industry. This is in preparation for similar measures to be introduced for other types of healthcare facilities or other essential services. Watch a one-minute video explaining how to upload immunisation evidence to a MyPass® profile.
Learn more about MyPass® for the Aged Care sector here.
About MyPass® Global: MyPass® Global is a worker resourcing and compliance management platform based in Perth, Australia. With 27,000 users across 24 countries, MyPass® is on a mission to transform the way workers are engaged and managed in high-compliance sectors.
Learn more: Watch MyPass® Overview