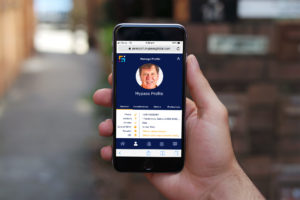 MyPass® Global has secured a grant via the Accelerating Commercialisation Program as announced by the Minister for Industry, Science and Technology, Karen Andrews.
The Accelerating Commercialisation Program provides small and medium businesses, entrepreneurs and researchers with access to expert advice and funding to help get a novel product, process or service to market.
"These grants support businesses exhibiting Aussie ingenuity and working to bring their products to life in new and expanding markets," Minister Andrews said.
The program has stringent merit criteria including clear ownership of home-grown unique intellectual property, a large addressable market and the ability to positively impact key sectors that are important to Australia's economy.
This grant acknowledges the traction MyPass® has achieved in the Australian Energy and Resources sector and provides matched funding for MyPass® to launch into the North American Energy and Resources market.
Matt Smith, CEO of MyPass® Global commented "We're delighted to have the continued support from the Department of Industry, Science and Technology and the Entrepreneur's Programme. It is a highly competitive process to secure funding, and we're thrilled that MyPass® has been recognised for its ability to make an impact on a global scale."
Smith explained how the products' origins give it the potential to change the industry for the better. He said, "MyPass® was born out of a desire to fix a critical problem – the disjointed and outdated processes used in the resources industry to get workers onsite. Our platform is a win for workers, empowering them to manage their qualifications in one place and a win for employers who seek to modernize outdated processes through innovative tech that transforms their operations."
With clients such as Santos, Incitec Pivot, Methanex and UGL, the platform has seen significant growth in the last 12 months. By streamlining the recruitment and onboarding process and reducing administration costs by as much as 70%, MyPass® Global centralises qualification verification to industry standards to ensure safety and compliance standards are met to get workers on-site, faster.
About MyPass® Global: MyPass® Global is a worker resourcing and compliance management platform based in Perth, Australia. With 180 business partners in Australia & New Zealand, MyPass® is on a mission to transform the way workers are engaged and managed in high-compliance sectors.
Learn more: Watch MyPass Overview
See more: MyPass Global will be at AOG in Perth on Wednesday 11 March. If you'd like to see a demonstration, simply register here.