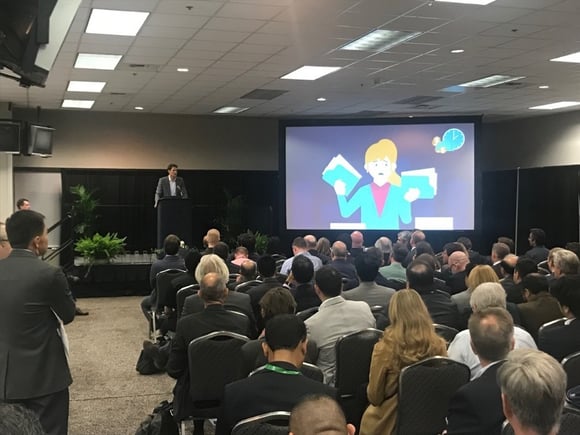 Over a morning coffee meeting with one of my trusted Advisors, I, Matt Smith, CEO of MyPass® Global, was challenged to explore the U.S. energy market as a launchpad for MyPass® globally.
That day I applied for Austrade's San Francisco Landing Pad program, and to our delight, our application was successful. To lead into this program I had booked to attend the Offshore Technology Conference (OTC) in Houston, so the 'planets aligned' when we heard Miranda Taylor's announcement at AOG19 of NERA & Unearthed's Technology Tour to Houston that would take place that same week! The tour was announced as a "collaboration between NERA, OGTC, Unearthed and Station Houston to promote and connect leading Australian technology companies with major energy resource ecosystems around the world to provide global solutions."
We put in our application and were extremely fortunate to be one of the four companies selected. It was an opportunity that couldn't be passed up as we knew our impact as part of a collective was far greater than on our own. NERA, Unearthed and Station Houston had planned a program that extended far beyond the OTC, engaging their expansive networks so delegates could build new relationships. Soon after confirming our place on the tour, we made a conscious decision to invest Chief Customer Officer Peter Buckley's time to join me and 'turbo charge' our efforts.
Our goals for the trip
We had five distinct goals for this trip that included:
Building relationships with other Australians and their respective entities. Based on my experience at GasTech18, we expected it to be a really good place to meet other progressive and successful Australians. For this trip, it included connecting with our fellow Tech Tour attendees, Unearthed, NERA, AMCHAM and Austrade.
Building relationships with attendees from the UK delegation as we were attracted to the idea of the 'multi-hub' energy tech concept and the chance to collaborate with other similar early-stage companies.
Gathering key information to inform our own 'go to market strategy' in the U.S.
Meeting potential customers through the OTC and networking events.
Having introductory meetings with potential investors
What we achieved at OTC
Throughout the OTC & Technology Tour, we were able to build strong relationships with Unearthed and the Australian delegation including A60N & Cumulus. We also spent time continuing relationships with former Gastech18 attendees AiSpanner and RedEye. Other highlights included meeting with Aspen Medical and Austrade in Houston.
In the first two days of the tour, we gathered some great information as a result of strategically 'walking the floor' at OTC and speaking to Australians who were now living in the US. Guest speakers such as Steve Jennis from Station Houston also provided massive value by explaining 'the lay of the land' in Houston based on twenty years of experience there.
At the conference itself, we had the opportunity to meet with leading global companies such as Worley Parsons, Wood, GE, Technip and McDermott.
We were introduced to a number of institutional investors and these discussions were positive for us to validate the applicability of the MyPass® offering. One highlight was getting to know Tim Kopra from Blue Bear Capital.
It was definitely well worthwhile and added 'rocket fuel' to the trip I already had planned. Our hosts worked hard to set up a plan for that week that brought us tremendous value and we are really grateful for that.
What now?
Following this experience, we're working hard on the US "go to market" strategy based on the consolidated advice and feedback of the people we spoke to throughout the trip.
The tour set up an excellent first round of touchpoints and conversations leading into my thirty-day stay in San Francisco at the Austrade landing pad. I now have forty days back in Houston, thanks again to Austrade, Station Houston & The Cannon. I believe we achieved in one week what would have taken at least a month to achieve on our own (if at all).
If NERA continues the Tour again next year, I would highly recommend making every effort to get involved. We are very thankful for the experience and are excited to see what we can create from it in the next two months while based in the U.S.
Thanks again to everyone involved and for helping Australian technology be represented on the global energy stage!
Matt