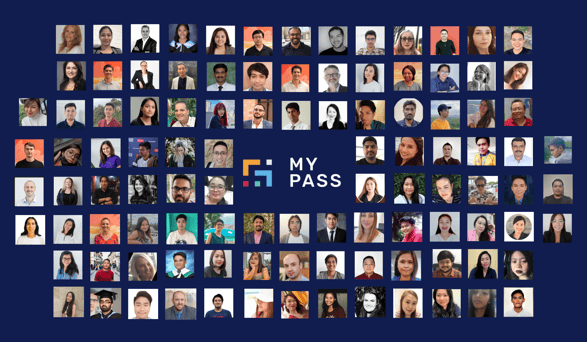 Last week, MyPass celebrated the addition of our 100th 'MyPasser.'
Team MyPass has grown and evolved in so many ways over our seven-year journey, with some incredibly talented and hardworking people contributing to every success along the way.
This milestone is a testament to the relationships we continue to build with our diverse customers and their belief they've shown in the MyPass solution and the value it brings to their organisations.
Our one hundred active employees are dispersed across a dozen locations around the world and all contribute in their own way to the success of MyPass Global.
Spotlight: Introducing Christina Shi - Chief Financial Officer
Call it poetic justice that our 100th MyPasser happens to be our first full-time Chief Financial Officer, Christina Shi. Christina joins our Leadership Team with a wealth of Financial experience behind her and is excited to be leading us into the next chapter of our business journey.
Welcome Christina, we're thrilled to have you!

Why did you decide to join MyPass at this stage in your own journey?
Before returning to Sydney in 2017, I spent over 18 years working in the investment banking and fintech sectors both in Australia and the UK. My remit was very varied - from leading ASX reporting, managing M&A deals and EMEA finance functions, to looking after a billion-dollar IT budget.
Upon returning home, I decided to leave corporate life and work for SMEs where I could capitalise on my well-rounded experiences to make a bigger impact. Since then, I have been involved in a few global SaaS start-ups. I like MyPass because of its USPs, huge TAM and the network effect, all of which are key prerequisites for building a successful tech business. After meeting Matt, it was an easy decision to join the team.
As our first company CFO, what are you most excited about when starting with MyPass this week?

I am excited about the opportunities to add value. Operationally, it means automating processes to improve efficiency and implementing SaaS metrics to keep the business on track, as well as getting ready for the next funding round. Strategically, I look forward to working with the leadership team to accelerate MyPass' product-led growth.
What potential do you see for MyPass in our next chapter as a business?
The US is likely to enter a recession in the next 12 months. There is a 40% chance for Australia. Recession or not, we won't see organisations slow down their digital transformation with cost-saving benefits. I think MyPass is in a good position to continue its growth plan during this downturn.
The opportunity is there to meaningfully increase MyPass' market share within the existing industries, as well as expand into new ones, for example, childcare and immigration.