As our team continues to grow, we're more than excited to introduce the first member of our new Brisbane office, Matt.

Matt has years of experience in the resources industry, from starting out as a FIFO worker to later implementing software on massive projects across the world. We sat down for a Zoom-chat (like most of our team meetings) with Matt, to learn more about his adventures and how he ended up joining the MyPass® team as an Implementation Specialist.
So you're based in Queensland now, where are you originally from?
I originally grew up in a small village outside Whakatane, called Matata. It had about 500 people right on the coast of New Zealand, next to a big native forest. It was paradise to grow up in - I was brought up running around outside, swimming, fishing and in the bush. We'd disappear in the morning with our mates and come back as the sun was setting for dinner at home.
I left New Zealand straight out of university and moved to Perth where I spent five years working in the resources industry to pay off my student loan and save money to travel. During this time I went to Africa a couple of times, went diving a lot through South East Asia and also went back to Queenstown a lot to ski. After this period I moved across to Europe and backpacked around with no plan for six months. It was the first time I'd learnt how to properly relax, to lie on a beach and do nothing. I really love going to new places and seeing different cultures. For me, I found Africa was the coolest place to visit when it came to different countries and cultures.
After that six months, I lived in London for two years and started working for Laing O'Rourke. Even during that period, I spent lots of that time doing weekend trips all over Europe. Eventually, I came back to New Zealand for a few months and then took a job in Darwin FIFO from Sydney. After this stint, I went back to Perth for a bit before relocating to Brisbane in January this year.
How have you found the transition going from hands-on FIFO through to implementing software?
I've loved the challenge and learning that's come with this side of the industry. I'm always learning new things and faced with different problems, whereas with FIFO I was often doing the same repetitive work. On the other hand, I miss the genuine, salt of the earth people that you work with on remote sites - hardworking people who never complain and get on with the job while having a laugh. The corporate world can feel very different at times and that was definitely a challenge for me. I wasn't always a 'techy' person so transitioning into software was really interesting and a fun challenge.
What caught your eye about MyPass®that led you to come onboard?
I came from a similar software space and already valued the chaotic lifestyle that can come with a tech company at this stage of its journey. Something that stuck out to me early on was seeing the company culture come through. Things like being able to read company profiles on the website about the team showed me that you bring the people to the forefront. I said yesterday to Matt Smith (CEO of MyPass® Global) that I haven't experienced a company with a culture like this, even though I've only been here a week - it's been really obvious. There's a really open culture where everyone can say what they want and has a direct line to management to share their ideas. That was the thing that stuck out the most to me and by the end of the recruitment process, I was really keen to come on board and would have been devastated if I'd missed out!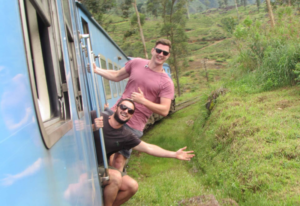 Now that you're here, what are you most excited about?
I love the 'no ceiling' aspect of it all. We're in a really good position as a business and as an individual, it's very clear that if we do the work and prove ourselves, whatever we want to go into, we'll be supported to do that. I've had experiences where you know exactly what your path is, what your next promotion will be and where your path stops, but I'm really excited about the idea of having no ceiling here, it's really motivating.
The potential of MyPass® itself is unreal - there's such a gap in that space of intermediate systems between ERP systems and basically everything else. At the moment it's really focused but I see that we can be moving into things like construction or full operations for businesses as well as a lot of other industries. If we stick to our identity with that core functionality and are really selective about what features we add, we can spread into a lot of other areas over time. The assurance and compliance information we hold is so key especially in the new COVID world and it's really up to us where we decide to take that. My role in that, and what I love about implementation, is helping clients improve their processes, not just implementing the software. Sitting with people, brainstorming and helping them problem-solve to help their business run smoother and more efficiently.
Outside of work, what's really important to you?
I'll exclude family and friends because they're the obvious number ones. Being active is really important to me, I figured out in my early 20s that to be the best version of myself I need to get up and exercise every morning. That used to be sport and gym but in the last few years, it's been boxing as well. If I'm active and fit and I've got a trip booked somewhere, that's unreal for me. Something I'd want to learn more about at some point in life is mental health. A couple of friends of mine have had a really rough run for a long time, it's something I've got really passionate about. I haven't figured out how I could scale that out and have an impact in a bigger way but I know I want to. It's so widespread and something that's so horrible for people to experience so I know I want to make a difference there. A frustration for me has been the lack of systems supporting this health space and it's something I'd love to see MyPass® support one day if we could.