Matt is one of the lead Developers at MyPass® Global and has been central to the evolution of MyPass® over the last two years. His involvement in the world of Computer Science over the past twenty years means he brings with him a clear perspective on how this area has evolved and how to keep our platform innovative.
Getting started
For Matt, computing started out as a hobby, and that's what led him to pursue it as a career. He decided early on that he may as well choose a profession that came naturally to him.
"I was doing something that I seemed to be able to do from a young age. It probably started from me enjoying computer games, thinking about how they would get created and how the graphics would get designed."
That meant that by the time he got to university he had a head-start and he would go on to finish at the University of Western Australia with first-class honours in Computer Science. He admits it was a hard degree to do but was happy to merge his hobby into a career.
"It's funny with IT, it's not a career that I would recommend to anyone unless they were suited to it."
Matt is honest about the realities of the job when he started out, spending lots of time at your desk without much interaction with others. He says that initially, it was very much a private thing that you would do spending hours writing code. He does believe that's changed in the last ten years, with more collaboration between teams.
Another big change in the course of Matt's life was the premature arrival of his son, born whilst living abroad in England. This would change the direction of his life, placing family at the epicentre which he says is still very much the case today with his wife and two kids in Perth. Matt enjoys the flexibility of working four days a week at MyPass® which allows more time to spend around his family.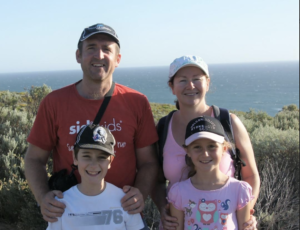 Evolving with the Technology
Matt believes that because Computer Science is always changing if someone wants to get involved in it they usually want to be at the forefront of that change. In the projects that he's had the most success in, including MyPass®, they've made speculative decisions and yielded positive outcomes as a result. He says that when projects haven't worked out, he's usually been able to sense when something is running dry and has learnt lots from that process which can be reapplied in the future.
"Sometimes you can pick the right technology and even if it may not work out, it's the techniques involved that are transferable. Good Computer Science is more about approach and techniques, understanding the similarities between different frameworks and seeing that they're all different variations of the same thing."
This is where he sees a downside to larger, 'old-school' technologies that exist. He says it can be frustrating as a developer when usage can be so high for technologies that are extremely dull. For someone who wants to 'ride the wave' at the forefront of technology, it can be very stifling to work on these technologies that don't promote innovation.
Matt believes businesses are left with a trade-off, especially in the startup community. Start-ups are expected to be doing the trendy stuff but then need to consider the security and reliability that people see in older systems.
Developing MyPass®
His experience at MyPass® started with being contacted by Product Manager Peter Vostan, coincidently only days after finishing his previous role. He said that Peter gave off a strong impression of perspective and insightfulness about MyPass®'s direction. This was then followed by an interaction with CEO Matt Smith who he says has a 'gift to give you confidence', making it a very easy decision for him to join the team.
Matt has enjoyed the team's receptiveness to ideas and appetite for differentiation. He says this shows in how they've built the user interface and the graph database, which add real value to the platform. His personal preference is to be working on something where you're being strategic about what you're doing, rather than just being fed requirements.
Matt explained the triangle of IT, where you can prioritise two out of three factors; time, money or quality. When building MyPass®, the development team wanted to build something that was rock solid in its quality and so we're willing to "go through the trenches to get it." Time was sacrificed to get there but the quality was prioritised because our experience has shown that quality pays back later on.
"It's not like building someone a house where you build it and then leave. IT is an ongoing process where to set yourself up for future success, you have to invest as you go."
As a result, Matt says that MyPass® has ended up as a very opinionated piece of software that would be difficult for someone to replicate in the same way and end up with the same product. For him, there's still always work to do because IT always evolves, however, he's excited about the latest release of the platform.
What next for Matt?
Matt has lots of ideas for what the next phase of MyPass®'s development can look like. He sees real opportunity in diversifying our technology to cooperate with other systems and cater for a larger workflow solution. One step forward for him is working out what we've done well and maximising the value from that whilst also identifying what can be optimised.
He describes himself as someone who "doesn't want to paint a pretty picture but would see the value in being realistic." It's this approach that has seen Matt bring so much value to the MyPass® team since he joined us in 2018.